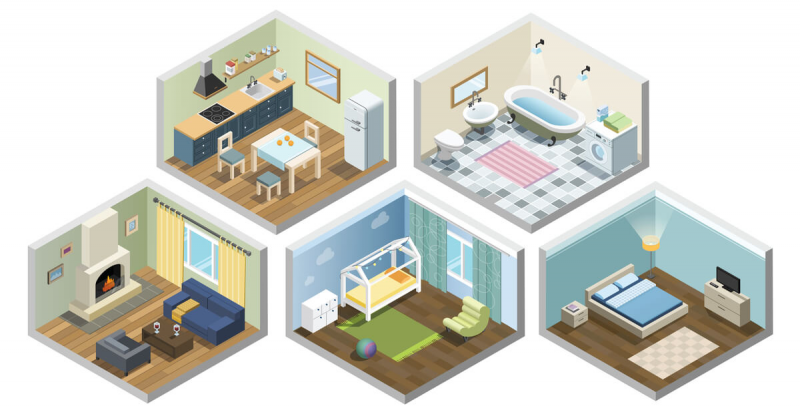 Different rooms in your house have different moods. Though a kitchen may require a fresh feeling, a living room may be a nice place to relax. For these different moods and rooms, wouldn't it be nice to set the mood with the proper lighting? Well, if there wasn't enough of a reason to love about LED lighting, one of our favorite aspects is the ability to easily customize the "color temperature" of any light in your house. In this piece, we're going to look at the best-recommended color temperatures for different places in your house.
Living Room LEDs
Whether you're wanting to entertain guests, watch a movie, or read a book, the living room is often one of the most multifunctional parts of your house. Do you want it to feel warm, cool, or somewhere in between? In order to meet the needs of all of the different activities that you have planned for the living room, we recommend a diversity of LED color temperatures. In order to maximize your control of which temperatures you want access to and when you want them, we also recommend utilizing various light sources in order to achieve the desired LED color temperature. Whiter lights in the ceiling may be nice to turn up when you're wanting to play a board game with guests, but warmer lights in the form of lamps may be nice when you want to watch a movie. Overall, our recommended lighting LED brightness for your living room is somewhere between 1,500-3,000 lumens and an LED color temperature of 2,200-3,000 K. While those seem vast, so are the activities you may have planned for the living room.
Home Study of Office LED Colors
Working from home can sound nice and relaxing, but many would rather work under the harsh lights of an office for the increased focus. You can replicate this focus in your home office or study with the proper LED color temperature. In order to boost serotonin in the brain, you will want lights that simulate sunlight — the day time being when people are wired to perform at their peak. You can still diversify the lighting in the office in case you want to work in the evenings and still be able to wind down afterward. Using strategically located lamps and hanging lights over work surfaces can help you attain the best light for the scenario or time of day. For a home office space or study, the recommended brightness will run between 3,000-6,000 lumens with an LED color temperature ranging somewhere between 3,000-5,000 K. These LED color temperatures will help keep you focused while allowing you to be able to wind down when you want to.
Kitchen vs Dining Room LED Color Choices
In smaller homes, dining areas and kitchen areas are typically connected, but this doesn't mean that they should share LED color temperatures. They have completely different vibes! Where a kitchen is a place of focus and creation, a dining room is all about leisure and enjoyment. The closest thing to a laboratory in many homes, you can afford to go with a colder temperature LED color in your home's kitchen. If you're taking the cooler scheme to the extreme, it's best if your kitchen is not directly open to everything else, as the colder LED color temperature will fill open-concept homes with an unwanted glare. In the kitchen, the recommended brightness levels run about a powerful 4,000-8,000 lumens with a recommended LED color temperature of around 2,700-5,000 K. Your dining room, on the other hand, warmer temperatures will bring coziness to any dinner party. We'd recommend maximizing your control of the brightness of your dining room with a dimmable LED chandelier over the table — keeping the brightness levels to around 3,000-6,000 lumens and the LED color temperature around 2,200-3,000 K.
Bathroom LED Color Temperature
As much as we dislike being blinded by the bathroom light in the middle of the night, most people consider their bathroom as much a place of business as anything. Though softer light would be a flattering sight in the mirror, we'd only be flattering ourselves. We want to make sure that our makeup is perfect and that we didn't miss any patches of stubble while shaving. It's for this reason that we're going to want to get LED bulbs that carry an LED brightness of about 4,000-8,000 lumens and a LED color temperature of about 3,000-5,000 K.
Bedroom LED Color Temperatures
According to Dr. Oz, the bedroom is for two things only: sleeping and...well, uh, you get the idea. In other words, the bedroom is for relaxing as much as possible. Some would say the only reasons you have lights in the bedroom is to find the bed. For the bedroom, you're going to want to keep the LED brightness down to between 2,000-4,000 lumens. Suggested bedroom LED color temperature should sit just around 2,700 K.
In order to get started on setting the correct LED color temperatures for your home, the LED experts from Lighting, Inc. can help you set the right mood for any environment.