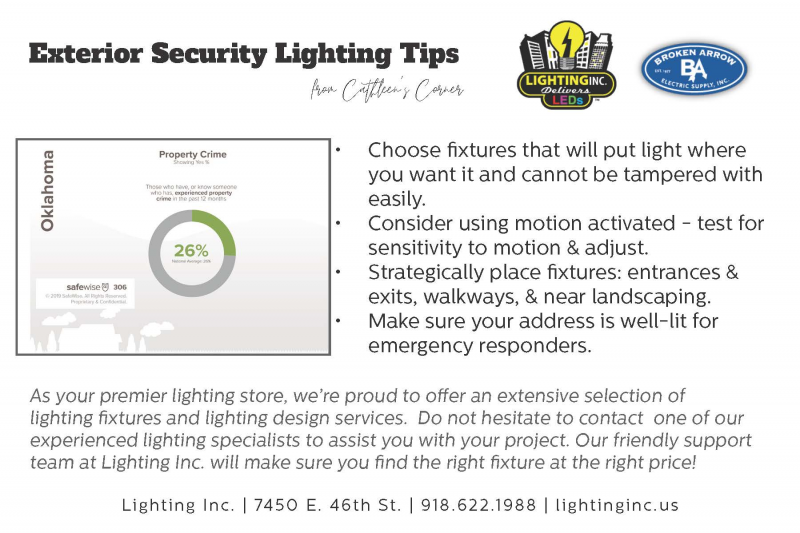 One of the worst things that can happen to your business or home, is theft! Having quality security lighting is key to protecting your property.
Here are some things to consider for your exterior security lighting:
Use lighting that enables smart or motion sensor capabilities. Smart fixtures allow you to control settings remotely via smartphone, laptop or tablet; or pre-set schedules to turn lights on or off during specific times.
Once you have decided on your outdoor security lighting equipment, strategically place light around your home or business. Some areas to focus on: doorways; front and rear entrances, walkways & near landscaping. Ensure the placement is where your fixtures cannot be tampered with easily.
Make sure your address is well-lit for emergency responders. Every second counts during an emergency. Valuable time can be lost if your house number is not clearly lit where emergency responders can see it at night. Firefighters, EMS responders, and police officers cannot provide emergency services to you or your family if they cannot find your house.
Most importanly, remember to choose fixtures that are designed and rated for exterior settings. The fixtures should be rated WP (weatherproof) or WR (weather resistant).
As your premier lighting store, we're proud to offer an extensive selection of lighting fixtures and lighting design services. Do not hesitate to contact one of our experienced lighting specialists to assist you with your project. Our friendly support team at Lighting Inc. will make sure you find the right fixture at the right price!
Lighting Inc. | 7450 E. 46th St. | 918.622.1988 | lightinginc.us